About
Element 26 Fitness Studio
Our team of fitness and nutrition professionals are invested in your health. We make every decision with our members' well-being in mind. Achieve your goals with us!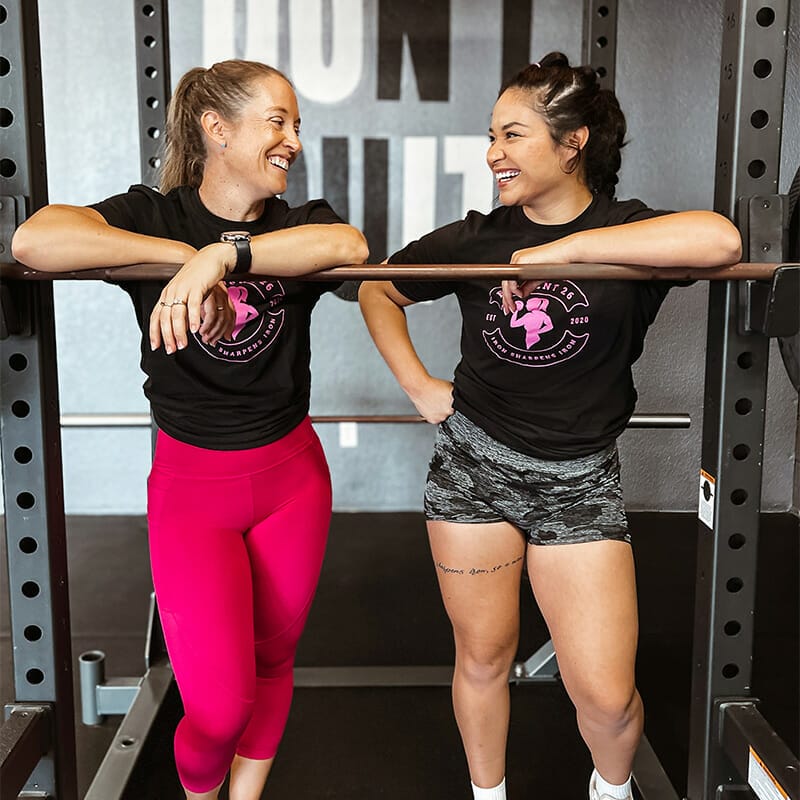 01
Gabie Bustamante & Amy Adams
Owners
We are just a couple of women who were co-workers that started working out together and decided they wanted to help other women find their own strength, physically and mentally. We wanted to provide a safe, judgment free space, with guidance for those that weren't comfortable in a traditional gym or just didn't know where to start. We feel we've done that with Element 26 and we just want to keep doing what we love, helping others in their fitness journey.
02
Makaila Guardiola
Coach
I have always been active, and played sports throughout high school like basketball and running. I am always learning and teaching myself about healthy foods and workouts so that I can pass that along to my clients. I love a variety of workouts, including running, swimming, weight training, cardio, and HIIT.I want to help women not only look their best but also feel their best. I want to help you reach your goals. I want to bring out the power and strength you have not only physically but mentally as well. I want to be your motivator and friend. No matter how big or small of progress you've made, I will be there to congratulate you and push you to keep going!
03
Audry Altman
Coach
I want to help women feel comfortable in their skin. I want to help you find your strength. I want to help you build confidence, and strength physically and mentally. That is my passion. My motivation is celebrating every step toward my goal. An object in motion will stay in motion and an object at rest will stay at rest. I tell my clients if they're working on their discipline, ask a friend to join in on their fitness journey to help keep them motivated. And of course, a coach that fits your personality it's great too!
04
Kelsie Hill
Coach
I have known from a very young age that I wanted to be a coach. During my stint coaching high school sports such as volleyball, basketball, and softball; I knew this was the way I could share the talents God gave me. I am passionate about sharing fitness and balance with student-athletes as well as mamas and really anyone who wants to move and FEEL their best! My heart hopes to grow friendships through fitness that grows the kingdom of God! I can't wait to help create a stronger and happier YOU!
05
Gabie Bustamante
Owner
I love helping women gain confidence and feel great from the inside out! It's a beautiful thing getting to watch someone's health and fitness journey. The only way to reach your goals is to get started right where you're at! You will learn as you go. Fitness and coaching have helped me overcome many obstacles I let stand in my way and hold me back for years. I am so grateful and humbled by the opportunity given me. I know how hard life can be but I'm here to help you and show you that you will overcome and you can push back and come back better than before. We can stand victoriously together!! There is enough room for us all to be successful.
06
Amy Adams
Owner
Being a fitness coach is something I never thought I'd be. I didn't start "working out" until I was like 35. I had always been active, loved playing golf and riding horses, but never really been in a gym or new what to do. But after Gabie introduced me I was hooked. I couldn't believe how much better I felt and I loved feeling strong. After a few years of working out together we decided we wanted to help others who were lost on what or where to go to find their own strength. And I am so thankful for this opportunity. Seeing other women have success and do something they never thought possible is the best gift a coach could ever ask for.
Take the first step.
We can't wait to meet you
Chat with a coach at our gym to learn more about what program will fit your goals.
Fill out the form below to get started
Take the first step towards getting the results that you want
Free Intro